Classic knitwear will not only keep you stylishly warm through the colder months but also keep your winter look fresh through the turns of the fashion cycle. Invest in classic pieces that will blend into your winter wardrobe for years to come.
Fisherman's knit
Invented by fishing communities off the west coast of Ireland, this chunky reversible pattern keeps out even the harshest winter weather. You can opt for traditional versions that are rugged, thick and use untreated wools or modern styles with thinner knits and less pronounced cabling.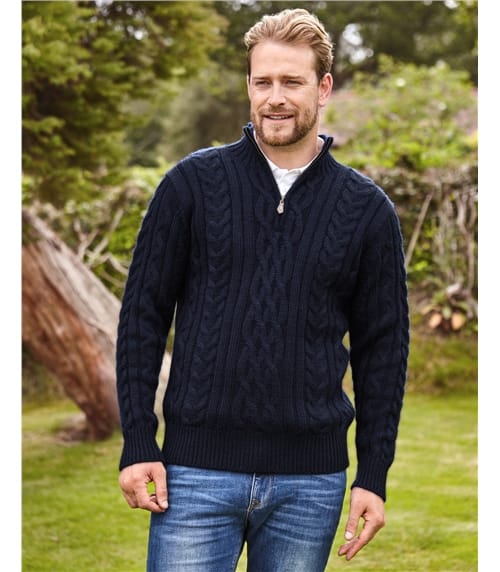 Breton stripe knit
This iconic French style is the chic way to keep warm. Popularised by icons such as James Dean, it began life as part of the French naval uniform. The classic colourway is blue stripes on white; however, this staple also comes in white on navy, white on black, and with stripes of varying thickness.
Crew-neck sweater
Basic doesn't have to mean boring. The crew-neck sweater is understated enough to pair with chunky cardigans or sleek blazers. This wardrobe staple is distinguished by its round neck. Like many other men's fashion items, it has sporting origins and was worn by rowers in the 1930s. You will find classic interpretations in the mens Ralph Lauren knitwear range.
Knitted zip-up jumper
This sporty winter warmer is ideal for layering with blazers, overcoats or large loose cardigans. The zip length varies from collar length (smarter) to full length (casual). You will find examples of both looks at retailers such as EJ Menswear. Leave collar-length zips slightly undone for a relaxed look, while full-length zips work under hoodies and over thinner jumpers for maximum warmth.
Roll-neck jumper
A well-fitted roll-neck jumper immediately elevates an outfit with a hint of sophistication. Slim-fit roll necks in solid dark colours can be flattering and elegant, while a statement printed piece in a looser fit adds a cosy and playful finish. Roll-neck jumpers can be an intimidating choice for fashion novices but you will find helpful advice online.
Loopback sweatshirt
A sporty item to pair with smart joggers or jeans and stylish trainers, this versatile style is as perfect for the morning jog as for lounging on the sofa. Originally developed for American footballers in the 1920s, it retains that nostalgic Americana feel. The ultimate sweatshirt is soft, pliable and radiates comfort in classic grey.